Location! Location! Location!

AICD is world renown...by those who value the best.
Notice:
AICD is currently in the process of
relocating from Fresno, California to
Oak Ridge, Tennessee!
Oak Ridge is a very beautiful area with federal status as a National Park
due to its historical significance as the Secret City in the lushly
forested mountains adjacent to Knoxville, Tennessee.
Due to the sheer enormity of the move and all that is
involved with re-establishing the studio, we are
not currently offering reservations for instruction.

Update: the first stage of the relocatin is complete.
We are now living in Oak Ridge.
The installation of high amperage electric panels needed for the freezers
and power tools has finally been approved! Rebuilding and outfitting the
new AICD training studio can now begin. There is still a lot to do.
We are hoping to be up and running again by this time next year.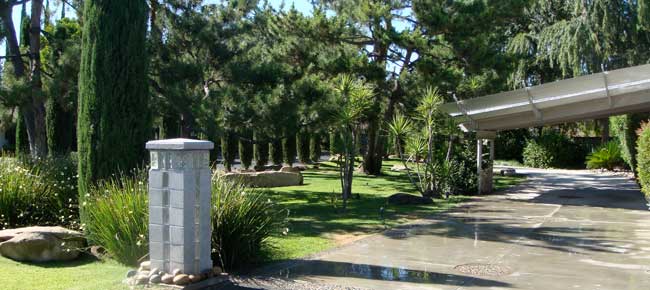 In the 1990's, Paul Germain purchased the above pictured beautiful custom property (a unique Frank Lloyd Wright design) in Old Fig Garden, an historical collection of county estates in Fresno, California. This property provided the Academy of Ice Carving and Design an ideal setting for one-to-one private instruction for over two decades.
Now, AICD is being relocated in closer proximity to major travel hubs that better serve the travel needs of chefs who are coming from great distances.

As with our studio in California, no detail is being spared to make your visit a world class training experience... and also an amazing get-away!

In addition, the property's design allows Paul and his wife, Robin, to provide the optional AICD VIP Suite Package for returning professional chefs and carvers who desire an all-in-one package which includes instruction, deluxe accomodations, and delicious meals suitable for visiting chefs and professional ice carvers from around the world.



Click here to view many of the tools used in AICD's Ice Carving Programs.

Click here to view a portion of AICD's refrigerated ice carving area.
The Academy of Ice Carving and Design offers safe, ideal carving conditions, resources, equipment, and comfort for your one-to-one private training experience. AICD's training studio is located less than 45 minutes from McGhee Tyson Airport, which provides the ultimate convenience for our international students who may wish to add a visit to various historical and entertainment venues.
If you are planning to extend your travel plans, many popular

Recreation and Entertainment

opportunities are available.

........................





"It doesn't matter how far it is, it is very important to do this course!
No importa lo lejos que este, es muy importante hacer este curso!"

Luis Martinez, CPIC, CMIC1, Ice Bar Madrid
Madrid, Spain