The Premiere
Ice Carving and
Food Artistry School


Total Immersion,
Private Instruction
in One Weekend!
---
---
---
---
---
---
---
---
---
---
FUN FOOD ART
& FUN ICE ART
Classes and Demonstrations
for Team Building, Couples
An AICD graduate proudly
finishes one of his projects
- a perfect 20 inch sphere -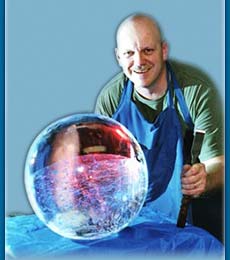 | | |
| --- | --- |
| About Paul and Robin Germain | |

About Paul Germain - Teacher of Teachers






AICD's president and master instructor, Paul Germain is internationally renown for being a highly creative, enthusiastic, and inspirational teacher, ice sculptor, and food artist. He has been developing, researching, and sharing innovative carving techniques and instructional methods for both the commercial ice carving and culinary industry around the world for over 35 years.

Providing far more instruction than what mere carving demonstrations can provide, Paul Germain's totally immersive, one-to-one, hands-on training techniques and real life applications make even the most detailed features of AICD's fascinating instructional programs come to life. Paul's break through methods of training prove to be nothing short of amazing and contagious for highly motivated chefs, culinary instructors, and professional ice carvers who want it all. Their testimonials say it best! You, too, will be amazed by how much Paul Germain will put his whole heart into making your training not only amazing, but also a special life experience.

Paul, who also founded Ice Sculpture World, has masterfully combined over three decades of experience in the ice carving, culinary, and hospitality industries with over 20 years of teaching experience as an award-winning, master art educator. Paul's career as a master ice sculptor, artist, and instructor has been featured in over 85 local and international newscasts, publications, TV talk shows, and art museums.




Paul completed his first ice carvings and food sculptures in the mid 1970's during his formal culinary apprenticeship under Master Chef Emerson Holmes to become a chef at Harrah's, the acclaimed five star hotel and resort casino in South Lake Tahoe, Nevada. He also worked as a chef at the world famous Scaris' Italian Restaurante on Catalina Island, and at the renowned Zorba's in Sacramento, California. In the mid 1980's he worked as a Chef Garde Manger and also as a free lance ice sculptor - serving the needs of the AMFAC Hotel Corporation, Hyatt Regency Dallas, The Adolphus, and distinguished private clubs in the Dallas/Fort Worth Metroplex.

In 1991, Paul opened the world's first storefront retail ice carving business and training facility for chefs in Clovis, California. In 1998, he purchased a custom property (a unique Frank Lloyd Wright design) in Fresno, California, which continues to provide an ideal setting for carvers to experience all that the Academy of Ice Carving and Design has to offer.


Paul's unique qualifications as a master educator and president of AICD include a Bachelor's degree featuring the university's highest honors and awards in both Art and English. He is professionally credentialed by the State of California to teach all levels of Art/Design. Paul has also earned a Master's degree in Instructional Leadership with an emphasis in Curriculum Design - which originally provided the skills needed for creating the curriculum standards of the Academy of Ice Carving and Design over 18 years ago. In addition, Paul is uniquely qualified and professionally certified to teach students and teachers of many cultural and language backgrounds. 35 years in development, his comprehensive curriculum and dynamic hands-on training methods have created a global standard for professional ice and food carving instruction and certification.

As a master art educator, his students' art works have been critically acclaimed, and have been displayed in distinguished venues such as the Fresno Metropolitan Museum of Art.
They have also been honored with "Best of Show" awards for two years in a row in the Congressional Art Exhibit in Washington, D.C.


AICD is fully CCR approved and registered to provide training to all
branches of the Federal Government, including the Department of Defense

"The one-on-one training I received really allowed me to focus. The instructor was very knowledgeable and thorough. The training was excellent- very informative. The classes were very intense.
Mr. Germain really knows his stuff. Everything is laid out for you. He was very patient with me, (not knowing much about ice carving) and brought out my artistic side. I cannot thank him enough. Hopefully, in the near future, I'll get back for the Master Class."

"AICD took great care of me. The hospitality was great.
Mr. Germain and his wife were so welcoming and nice. It made the trip and my stay that much more comfortable. My stay in Fresno was perfect."

Anthony Rametta, CPIC, Chef De Cuisine, IP Casino & Resort, Ocean Springs, Mississippi


In addition to providing comprehensive private ice carving instruction and ongoing support for graduates from around the world, AICD will be hosting special events featuring well known leaders in the ice sculpting industry who have distinguished themselves in either the commercial or competitive arenas.

Please send Paul Germain an email indicating that you would like to be notified about these events. These events will be scheduled based upon student interest.



Paul Germain's Ice Sculpture World


View a sampling of Paul Germain's commercial ice sculptures at




Robin Germain
AICD Assistant Director

Robin is a graduate of the University of Memphis, having earned a Master of Science in Instructional Design Technology – Adult Education, and a Bachelor of Arts.


Robin Germain offers her assistance and hospitality to compliment the comprehensive training in AICD's Associate, Professional, and Master Ice Carver Certification Programs.